The AMA Penny Press Machine
Press a souvenir medal yourself - the Penny Press Machine turns small coins into collectible souvenir medallions within a few seconds.
A normal coin, e.g., a 5-Cent coin, is turned into an elongated coin - a wonderful souvenir for your customers!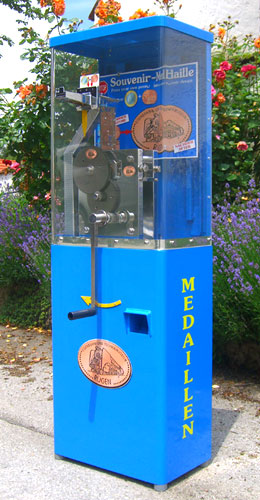 Advantages of the Penny Press machine:
Our penny press machines are hand-cranked - no electricity required.
Can be installed anywhere, indoors and outdoors.
Needs only a small space.
Clear window to view the pressing process.
Very well protected money box.
Low investment but high profit.
Simple Operation: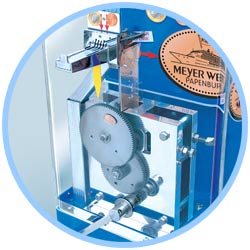 Coins are put into the Penny Press, and the handle turned several times. A clever mechanism involving steel rollers exerting a pressure of many tonnes, lovely collectable medals are then produced from simple coins. More...
How can you aquire a Penny Press machine?
You can buy a Penny Press machine from us and operate it yourself.
Our machines have enjoyed years of successful and profitable operation throughout countries such as Great Britain, Belgium, Holland, France, Spain, Italy, Turkey and so on....
If you are interested in our Penny Press machines, please contact us!